Home
> Beko DTLCE80041W White 8kg Condenser Dryer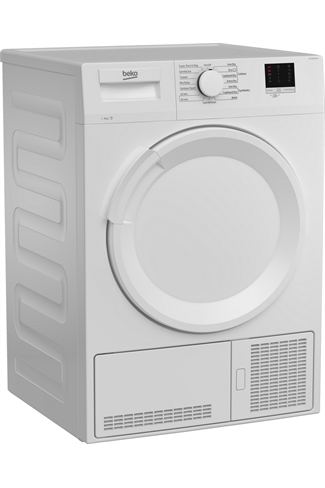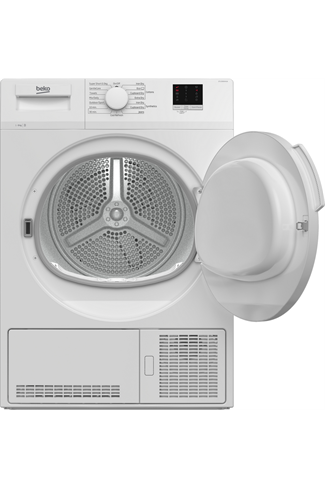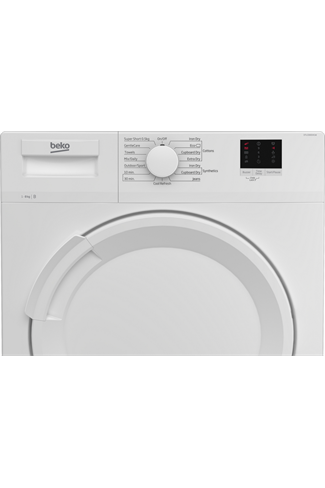 Beko DTLCE80041W White 8kg Condenser Dryer
Special Order Item:
This item is currently out of stock.
Main Features
Dimensions
Height: 85cm; Width: 60cm; Depth: 57cm
The Beko DTLCE80041W 8kg condenser dryer offers a great range of drying programmes that will have all your favourite garments dry in a flash. Awarded with an impressive B energy efficiency rating you'll greatly benefit on excellent energy cost savings.
Beko Programmes
Equipped with a wide range of programmes you'll have no problem drying and safeguarding your favourite garments, including:
Cottons
Synthetics
Synthetics Iron dry
Jeans
GentleCare
Cool Refresh
Furthermore the Cupboard dry programme is an excellent option to put your dry clothes away in the wardrobe so they are always ready to go. And, if you and your household are always on the go and in hurry the Beko DTLCE80041W Quick Dry Programme will have your clothes dry and ready in just 10 minutes.
Experience drying like no other with Beko's Sensor Drying technology that makes drying your clothes a breeze. The innovative Beko technology that detects the moisture level allows you to decide before the cycle on how dry your clothes wants to be, so you can protect your valuable items from over drying.
Spacious Drum
Fitted with a spacious 8kg drum capacity this Beko DTLCE80041W is perfect for medium to large family household, thanks to its 32cm porthole that makes loading and unloading an effortless task, ideal for drying large items bed linens
Anti Crease Feature
Decrease the ironing pile with this Beko condenser dryer that helps assist in removing wrinkles in your garments as they dry. Perfect for busy households that are not always home, the Automatic Anti Crease technology rotates the drum periodically for up to two hours after the dry cycle has finished in order prevent wrinkles.
The Beko DTLCE80041W 8kg condenser dryer has all the features you need to handle all your drying tasks. Its clean sleek white finish and spacious design makes it a great addition to any home.

Key Information
Dimensions
(H): 85cm; (W): 60cm; (D): 57cm
Guarantee & Warranty
Performance
Dry Programmes
More Information
Recommended / Related Products