Home
> Zanussi ZCG661GWC White Double Oven Gas Cooker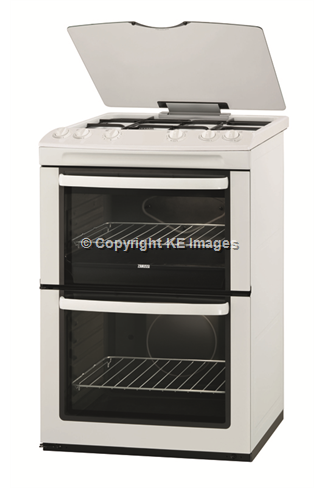 Zanussi ZCG661GWC White Double Oven Gas Cooker
Available from Monday, 26/03/2018
Special Order Item:
This item is currently out of stock.
Main Features
Dimensions
Height: 90cm; Width: 60cm; Depth: 60cm
This Zanussi ZCG661GWC is a high quality gas cooker that will really make a difference to the way you cook. It has a double oven, with the main oven capacity standing at an impressive 79 litres, and the top oven capacity at 34 litres. The added bonus of the top oven cavity is that it has a separate grill available to use, adding versatility to the way you cook.
Despite this appliance having an abundance of features, it doesn't compromise the energy rating that it has. It has been awarded an A energy rating, which is a fantastic rating and only a few down from the best available!
Product Details
Dimensions
(H) 90cm; (W) 60cm; (D) 60cm
Warranty
Manufacturers Guarantee
1 year
Performance
Top Oven Cavity Features
Top Oven Capacity
34 litres
Separate Grill in Top Cavity
Yes
Door Opening
Drop Down Door
Main Oven Cavity Features
Door Opening
Drop Down Door