Home
> Zanussi ZCG552GWC White Gas Cooker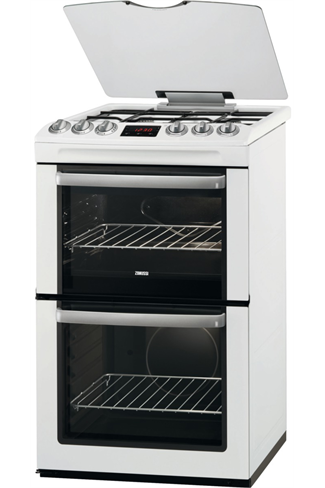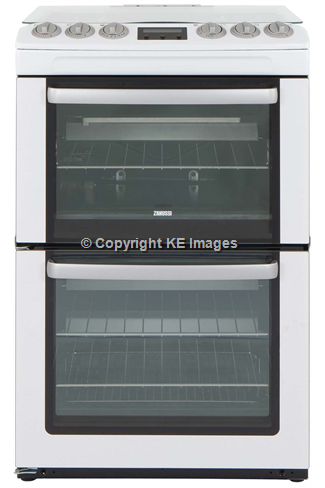 Zanussi ZCG552GWC White Gas Cooker
Available from Thursday, 21/06/2018
Special Order Item:
This item is currently out of stock.
Main Features
Dimensions
Height: 90cm; Width: 55cm; Depth: 60cm
The Zanussi ZCG552GWC is a white gas cooker with some fantastic features available for you to use when cooking. Once you have this appliance in your home, you will wonder why you didn't replace your older cooker sooner!
This Zanussi 55cm gas cooker is slimmer than most cookers (55cm wide) and will fit in to the space you have allocated for it in your kitchen with ease. At the top of this cooker, you have a 4 burner gas hob (1 auxiliary burner, 2 semi-rapid burners and 1 rapid burner) with enamel pan supports. There is also a glass lid on this appliance so the top of the cooker can be used as extra space when you aren't using the hob.
The top oven has a capacity of 34 litres and comes with a built in full width variable grill for you to use. It boasts an outstanding A energy rating and also comes with a grill pan so you can start cooking straight away!
The main oven cavity is much larger with a 79 litre capacity. So if you regularly enjoy cooking large meals for your family, this white gas cooker is definitely for you as it provides you with an abundance of space to cook with.
As well as all of these fantastic features, the Zanussi ZCG552GWC comes with a 2 year guarantee from Zanussi themselves.
Key Information
Dimensions
(H): 90cm; (W): 55cm; (D): 60cm
Guarantee & Warranty
Length of Warranty
2 years
Performance
Main Cavity Features
Second Cavity Features
Hob
More Information
Recommended / Related Products