Home
> Servis SHE4W 60cm White Built-In Solid Plate Hob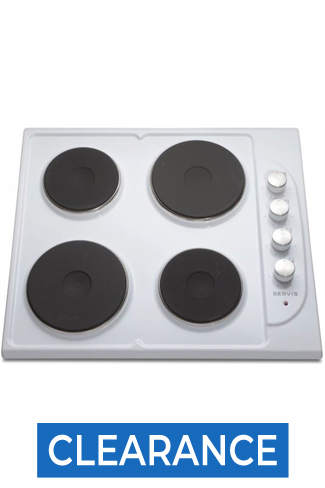 Servis SHE4W 60cm White Built-In Solid Plate Hob
Available from Wednesday, 29/05/2019
Available from Today, 27/05/2019
Main Features
The Servis SHE4W 60cm white built-in solid plate hob offers an affordable option for households looking for a reliable cooking experience. Featuring four cooking zones, this model gives you plenty of space to cook with multiple pots and pans with ease.
Easy to Use
Equipped with four easy to use dials, you'll be able to select the perfect temperature for your culinary creations. Furthermore, thanks to the two varying zone sizes, you can boil, fry and heat multiple pans effortlessly.
Featuring a red indicator light, you'll easily see when the hob is in use. This makes it great for avoiding accidents or unnecessarily leaving the hob on after you've finished cooking.
Simply Cleaning
Without pan supports, it is super easy to clean the hob surface. Unlike gas hobs, you won't have to fiddle around with pan supports, ensuring your cleaning process is hassle-free.
Simply wait for the hob to cool down, then use a damp sponge with a mild detergent to wipe away any food particles or spills. Say goodbye to endless hours scrubbing away at stubborn stains.
A great choice for households on a budget, the Servis SHE4W 60cm white built-in solid plate hob offers a durable cooking experience for smaller households. With simple to use features, this model will make preparing your favourite dishes a breeze.
Key Information
Guarantee & Warranty
Hob
Surface Material
Solid Plate
More Information
Recommended / Related Products