Home
> Rangemaster Encore Deluxe EDL100DFFSL/C 100cm Slate Dual Fuel Range Cooker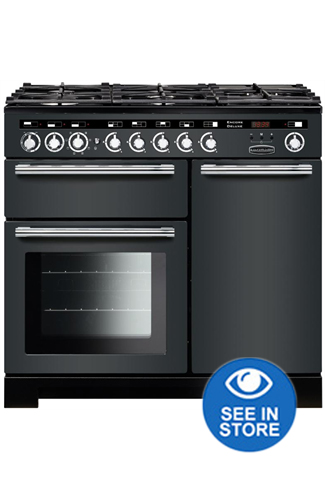 Rangemaster Encore Deluxe EDL100DFFSL/C 100cm Slate Dual Fuel Range Cooker
Available from Monday, 13/07/2020
Available from Monday, 13/07/2020
Main Features
Dimensions
Height: 91cm; Width: 100cm; Depth: 60cm
The Rangemaster Encore Deluxe EDL100DFFSL/C 100cm slate dual fuel range cooker combines a contemporary design and roomy cavities for the optimal cooking experience. An ideal choice for enthusiastic cooks, you'll have no problem whipping up your favourite dish with ease.
Contemporary Look
Whether you're planning a kitchen upgrade or looking to expand your cooking capacity, the EDL100DFFSL/C is guaranteed to make your kitchen stand out from the crowd.
Finished in a modern slate, this Rangemaster Encore Deluxe will complement many kitchen interiors with ease. Featuring with sleek chrome rotary controls and handles, this model will add a sophisticated edge to your kitchen design.
Three Multifunctional Cavities
The main electric fan oven boasts a generous 73 litre capacity split over two adjustable shelves. This makes it great for hosting dinner parties or large family gatherings with minimal effort.
The tall second fan oven comes with an 82 litre capacity, making it great for batch baking brownies or muffins. Equipped with four adjustable shelves, you'll have plenty of room to cook multiple dishes effortlessly.
For adding finishing touches to your favourite dishes, the separate grill compartment comes with a handy slide out tray for convenience. From perfectly grill chicken for a healthier option to crispy bacon, the EDL100DFFSL/C is great for whipping up culinary creations.
Superb Gas Hob
Equipped with a roomy five burner zone gas hob, the Rangemaster EDL100DFFSL/C gives you the flexibility to boil, fry and sauté multiple pans at once. Thanks to the sturdy cast iron pan supports, you'll have a base to keep your pots safe whilst in use.
Unlike most electric hobs, gas offers an immediate heat source that can be precisely controlled. Thanks to the easy to use dial controls, you won't have to worry about over boiling pasta or undercooking vegetables anymore.
Awarded an A energy rating, the Rangemaster Encore Deluxe EDL100DFFSL/C 100cm slate dual fuel range cooker doesn't just look great, it is also environmentally-friendly. Make your kitchen stand out from the rest today!
Key Information
Dimensions
(H): 91cm; (W): 100cm; (D): 60cm
Guarantee & Warranty
Length of Warranty
2 years
Performance
Hob
Surface Material
Cast Iron Pan Supports
Main Cavity Features
Door Type
Double Glazed Window
Removable Inner Glass Door
Yes
Second Cavity Features
Cavity Type
Electric Fan Oven
Third Cavity Features
Cavity Type
Full Width Electric Grill
More Information
Model Number
EDL100DFFSL/C
Cleaning Method
Catalytic Liners
Recommended / Related Products