Home
> New World NWET50B Black Electric Cooker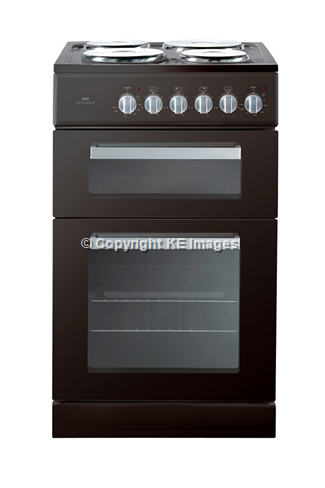 New World NWET50B Black Electric Cooker
Available from Monday, 26/03/2018
Special Order Item:
This item is currently out of stock.
Main Features
Dimensions
Height: 90cm; Width: 50cm; Depth: 60cm
This black cooker is one of many New World cookers that we stock here at Kitchen Economy and an excellent option if you need a new appliance for your home.
At just 50cm wide, this cooker is considered to be slimline, making it perfect for those of you who don't want a cooker to take over the whole room. There are a host of great features on this appliance, including a main oven capacity of 55 litres with 2 adjustable shelves.
The top cavity has a variable electric grill in it, giving you the versatility to cook exactly how you want to. There are also 4 burners on the appliance giving you the option to use the hob to cook as well.
The A energy rating this appliance has been given is one of the best available, so you will be environmentally friendly when using your appliance, as well as saving yourself money on your utility bills. To top it all off, there is a 1 year warranty attached to this freestanding electric cooker, putting your mind at rest knowing you have purchased a high quality appliance.
Product Details
Dimensions
(H) 90cm; (W) 50cm; (D) 60cm
Warranty
Manufacturers Warranty
1 year
Performance
Top Grill Cavity Features
Grill Type
Variable Electric Grill
Door Opening
Drop Down Door
Main Oven Cavity Features
Shelves
2 Adjustable Shelves
Door Opening
Drop Down Door