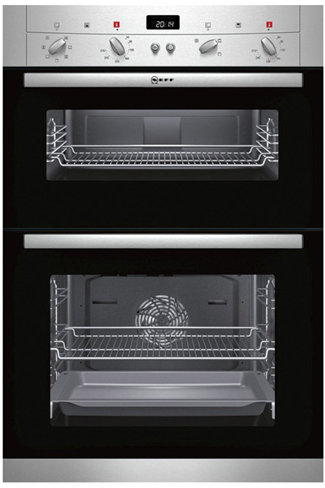 Neff U12S53N3GB
Available from Monday, 29/01/2018
Main Features
Dimensions
Height: 89cm; Width: 59cm; Depth: 55cm
The Neff U12S53N3GB is a superb double oven that has a host of features to help ensure cooking is made that little bit easier for you and your family. Both ovens have TitanEnamel interiors and CeramiCleanliners helping to keep both oven cavities cleaner and more importantly, saving you time having to scrub them!
The top oven cavity has a fantastic capacity of 35 litres and comes with a built in variable grill, giving you another way to cook your delicious homemade meals.
The main oven cavity has a much larger 67 litre capacity fan oven and a double glazed oven door to help retain as much of the heat produced by the oven in the cavity.
The Neff U12S53N3GB also comes with a brilliant 2 year guarantee so you can rest assured that you are purchasing a fantastic appliance for your home.
Key Information
Dimensions
(H): 89cm; (W): 59cm; (D): 55cm
Guarantee & Warranty
Length of Warranty
2 years
Performance
Main Cavity Features
Second Cavity Features
More Information
Recommended / Related Products