Home
> Montpellier MIFF700 70/30 Integrated Fridge Freezer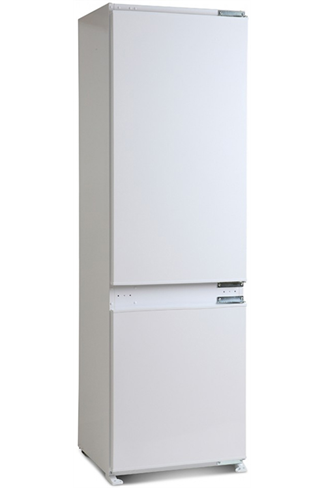 Montpellier MIFF700 70/30 Integrated Fridge Freezer
Available from Monday, 26/03/2018
Main Features
Dimensions
Height: 177cm; Width: 54cm; Depth: 54cm
The MONTPELLIER MIFF700 is a 70/30 split integrated fridge freezer, perfect if you want more fridge space for your shopping; whats more is that is has an A+ energy rating so it won't cost as much to run.
The Montpellier MIFF700 large fridge has a total of 189 litres of capacity allowing you to store as much as you can over the 3 shelves that adjustable to how you choose, the door balconies and large salad crisper means you can make the most of the space.
The smaller freezer still allows you to store up to 55 litres over three clear doors allowing you to see exactly what foods you're reaching for.
This Montpellier Integrated fridge freezer is available at Kitchen Economy Cardiff as well as many other kitchen appliances for your home.
Product Details
Dimensions
(H) 177cm (W) 54cm; (D) 54cm
Performance
Annual Energy Consumption
272kWh
Freezer Meltdown Time
13 hours
Guarantee
Manufacturers Guarantee
5 years
Fridge Features
Fridge Capacity
189 litres
Freezer Features
Freezer Capacity
55 litres