Home
> Leisure LEVI68X Induction Electric Cooker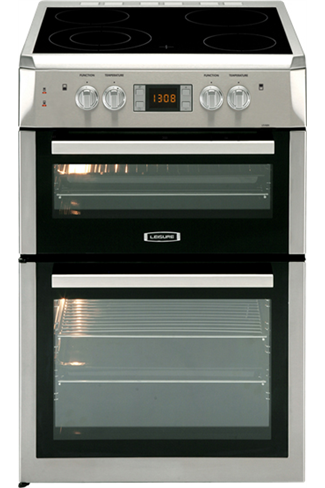 Leisure LEVI68X Induction Electric Cooker
Available from Wednesday, 26/09/2018
Available from Tomorrow, 25/09/2018
Main Features
Dimensions
Height: 90cm; Width: 60cm; Depth: 60cm
This Leisure LEVI68X is part of the range of Leisure appliances that we stock here at Kitchen Economy and a fantastic, high quality appliance to help you cook delicious meals for yourself and your family. The appliance comes ready with 3 wire shelves, and a grill pan set, so you can start cooking straight away!
The stainless steel finish gives this electric cooker a really smart finish, and with clear glass doors, you can keep an eye on how your food is doing while it is cooking. There are 2 cavities in total, one main oven cavity, and the other is a top oven cavity with a full width grill. The main oven cavity has a capacity of 65 litres, whereas the top oven cavity has a capacity of 35 litres. As a result, you have a 100 litre capacity in this appliance, which gives you plenty of room to cook everything you need to at once.
The A energy rating that has been assigned to this appliance is fantastic, as it means you have an environmentally friendly appliance which is becoming increasingly more important in the modern day. It also means that you will save yourself money on your utility bills in the long run, which can't be a bad thing!
Key Information
Dimensions
(H): 90cm; (W): 60cm; (D): 60cm
Performance
Main Cavity Features
Second Cavity Features
Hob
Surface Material
Induction
More Information
Recommended / Related Products