Home
> Indesit DCF1A300UK.1 118cm White 312L Chest Freezer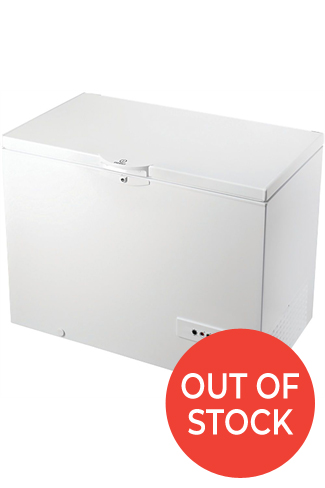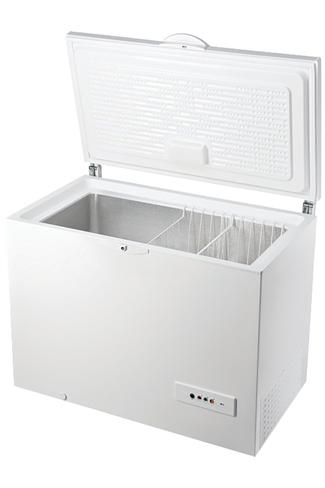 Indesit DCF1A300UK.1 118cm White 312L Chest Freezer
Available from Monday, 09/12/2019
Available from Today, 06/12/2019
Main Features
Dimensions
Height: 92cm; Width: 118cm; Depth: 70cm
The Indesit DCF1A300UK.1 118cm white 312 litre chest freezer offers a huge storage capacity for larger households looking to expand their freezer capacity. Equipped with user-friendly features, you'll be able to keep more of your favourite frozen goodies fresh.
Enormous Capacity
Equipped with an enormous storage capacity of 312 litres, the DCF1A300UK.1 will let you keep more of your frozen goodies fresh for longer. Complete with three storage baskets, you'll have to flexibility to arrange your freezer contents for ultimate convenience.
From big food shops to batch cooking, this Indesit chest freezer will give you plenty of space your favourite dishes effortlessly. Additionally, the counterbalanced lid will let you load up your freezer without any accidents.
User-Friendly Refrigeration
For smaller households with limited space, you'll be pleased to know the Indesit DCF1A300UK.1 can be kept in the garage or outbuildings with no heating. Furthermore, the interior light will let you see all your freezer contents with ease.
Keeping your freezer a constant temperature has never been easier. The Super Freeze function can quickly reduce the internal temperature after adding new frozen goodies to your freezer.
Effective Performance
Awarded an A+ energy efficiency rating, the DCF1A300UK.1 will let you keep your utility bills under control. You'll just need to manually defrost the interior occasionally to keep it in top working condition.
Should you suffer a power failure, you'll have peace of mind that your food will remain safely stored for up to 45 hours! This is great for minimising food waste, making it great for larger households.
Whether you're a large family looking for additional storage, or a busy household looking to store their batch cooking, the Indesit DCF1A300UK.1 118cm white 312 litre chest freezer won't disappoint. Keep more of your frozen goodies fresher for longer!
Key Information
Dimensions
(H): 92cm; (W): 118cm; (D): 70cm
Guarantee & Warranty
Performance
Annual Energy Consumption
278kWH
Freezer
More Information
Recommended / Related Products