Home
> Hoover WDXC485C1B Black Washer Dryer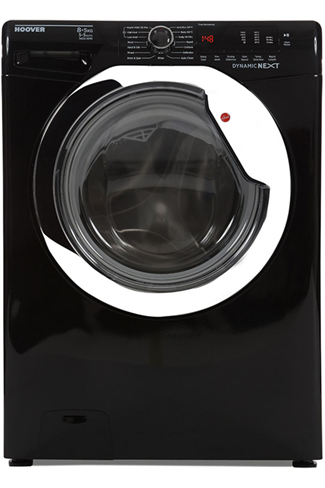 Hoover WDXC485C1B Black Washer Dryer
Available from Monday, 26/03/2018
Special Order Item:
This item is currently out of stock.
Main Features
Dimensions
Height: 85cm; Width: 60cm; Depth: 54cm
The Hoover WDXC485C1B is one of many laundry appliances that we stock here at Kitchen Economy and will help make a huge difference in how easy it is to do the laundry in your home.
This black washer dryer will give your home an alternative look compared to more traditional white home appliances. With wash programmes varying from a rapid 14 minute wash to the ActivEco programme which washes at a lower temperature to be more efficient, this washer dryer has a wash programme for almost any eventuality.
The Hoover WDXC485C1B keeps it simple when it comes to drying programmes as well, with just a low heat and high heat setting. However, it also includes a handy 59 minute wash and dry programme, useful for the approaching winter months.
Thanks to the 238kWh annual energy consumption, 57dB wash noise level and other impressive environmentally friendly features, this black washer dryer has been awarded a B energy rating.
Product Details
Appliance Type
Freestanding Washer Dryer
Dimensions
(H) 85cm; (W) 60cm; (D) 54cm
Guarantee
Performance
Annual Energy Consumption
238kWh
Annual Water Consumption
20,600 litres
Wash Programmes
Drying Programmes
Rapid Wash and Dry 59 Minutes
Yes
Recommended / Related Products