Home
> Fridgemaster MCF98 Small Chest Freezer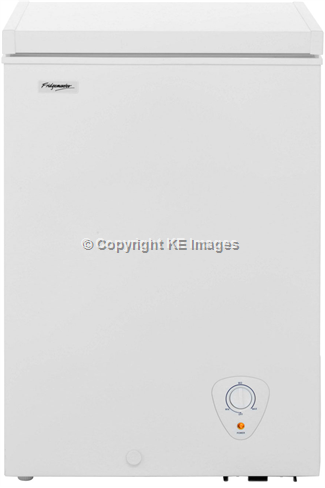 Fridgemaster MCF98 Small Chest Freezer
Available from Tuesday, 24/10/2017
Main Features
Dimensions
Height: 88cm; Width: 56cm; Depth: 53cm
The Fridgemaster MCF98 is a perfect small chest freezer for you at home, particularly if you need a bit of extra storage space for frozen groceries that won't cost a fortune to run. The 173kWh annual energy consumption will help ensure this doesn't happen. The fact that the freezer has an A+ energy rating and a 4* freezer rating means it is considered to be an environmentally friendly appliance.
This Fridgemaster freezer has a 98 litre capacity with 1 large storage basket inside to ensure all of your frozen groceries can be neatly stored away. To adjust the temperature of this Fridgemaster MCF98, simply use the analog thermostat on the front of the small chest freezer.
Another handy feature that the Fridgemaster MCF98 has is the 24 hour power failure safe storage. This basically means that if there is a power cut in your home, the freezer will safely store your groceries ensuring that hygiene is maintained.
Key Information
Dimensions
(H): 88cm; (W): 56cm; (D): 53cm
Guarantee & Warranty
Performance
Annual Energy Consumption
173kWh
Freezer
More Information
Recommended / Related Products