Home
> Fridgemaster MCF306 113cm White 302L Chest Freezer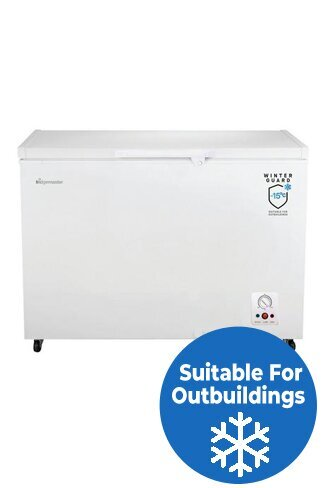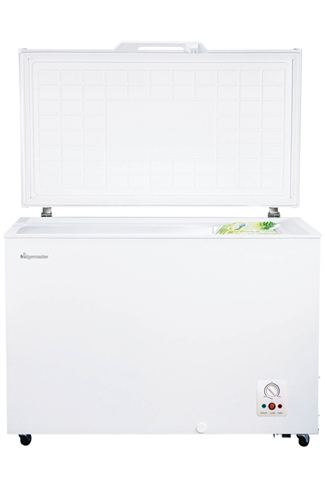 Fridgemaster MCF306 113cm White 302L Chest Freezer
Special Order Item:
This item is currently out of stock.
Main Features
Dimensions
Height: 83cm; Width: 113cm; Depth: 67cm
The Fridgemaster MCF306 113cm white chest freezer will have no problem stocking up all your freezer items, thanks to its spacious storage space and range of handy features. Never have to worry about high energy bills again thanks to the awarded A+ Energy efficiency rating
Fridgemaster Design
An excellent addition to any home, thanks to its generous 302 litre storage capacity of open space, so you never have worry about drawers and compartments limiting you. However if you want to be more organised this chest freezer also comes with a removable basket that's easy to load unload.
Additionally, you can stock up with ease with the fitted counterbalanced lid that ensures that your freezer stays open when you're filling it with your favourite freezer goodies. For easy user experience you can adjust the temperatures to your liking or if you're storing new food you can enable the Fast Freeze setting.
Extra Features
Equipped with Fridgemaster's Winter Guard technology the MCF306 will have no problem running efficiently in temperatures as low as -15°C, so you can place it with no worry in a utility room or outer building.
Furthermore in an event of a power cut this chest freezer will keep your frozen goods protected for up to 24 hours to minimise waste. Its flame retardant back panel will also safeguard your home to provide you a peace of mind.
The Fridgemaster MCF306 113cm white chest freezer has enough storage space to store up to 17 bags of shopping so you never have to sacrifice your favourite freezer goodies for space ever again.
Key Information
Dimensions
(H): 83cm; (W): 113cm; (D): 67cm
Guarantee & Warranty
Performance
Freezer
Power Failure Storage
24 Hours
More Information
Weight (kg) (Approximate)
42 kg
Recommended / Related Products