Home
> Bosch WTB84200GB 8kg Tumble Dryer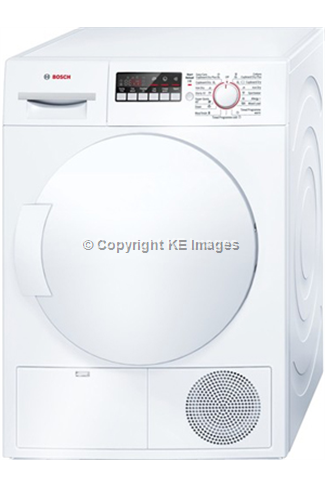 Bosch WTB84200GB 8kg Tumble Dryer
Available from Friday, 27/10/2017
Special Order Item:
Please allow 7 working days for this to be dispatched from our warehouse.
Main Features
Dimensions
Height: 84cm; Width: 60cm; Depth: 64cm
The Bosch WTB84200GB is an excellent 8kg tumble dryer for your home with a host of fantastic programmes that will help ensure your laundry is fresh and dry for you when you need it.
In terms of performance for a tumble dryer, the Bosch WTB84200GB is excellent. The 8kg load capacity and 561kWh annual energy consumption are responsible for the B energy rating that the appliance has been awarded.
There are a total of 15 drying programmes on this 8kg tumble dryer with specialist programmes for shirts and woollen items. There are also specialist programmes for cottons including cottons cupboard dry plus, a normal cupboard dry programme and a cottons iron dry programme that gives you laundry that is iron ready.
As well as this there are also other handy features including the LED display that helps ensure you choose the right programme for your laundry and the anti-vibration design which helps contribute towards the extremely quiet 65dB noise level.
Key Information
Dimensions
(H): 84cm; (W): 60cm; (D): 64cm
Performance
Dry Programmes
More Information
Recommended / Related Products