Home
> Beko BCDG504W Twin Cavity Gas Cooker with a Glass Lid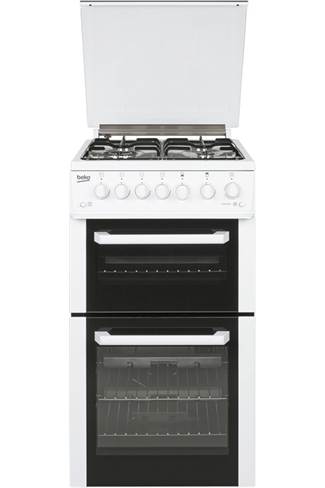 Beko BCDG504W Twin Cavity Gas Cooker with a Glass Lid
Available from Friday, 26/01/2018
Special Order Item:
This item is currently out of stock.
Main Features
Dimensions
Height: 90cm; Width: 50cm; Depth: 60cm
The Beko BCDG504W is one of many Beko gas cookers that we stock here at Kitchen Economy.
This twin cavity gas cooker has a glass lid attached that folds down over the hob as well as a host of other fantastic features. The hob has 4 burners in total, with a minimum power of 1kW and a maximum power of 2.9kW.
The top cavity in this gas cooker has a built in grill which is completely separate from the main cavity, allowing you to use up to three different cooking methods at once, your hob, grill and oven.
The main oven has a capacity of 61 litres with two shelves that can be adjusted to suit you when you are cooking.
Key Information
Dimensions
(H): 90cm; (W): 50cm; (D): 60cm
Guarantee & Warranty
Manufacturers Guarantee
1 year
Performance
Main Cavity Features
Second Cavity Features
Hob
Surface Material
Enamel Pan Supports
More Information
Recommended / Related Products