Home
> AEG HK654200XB Induction Hob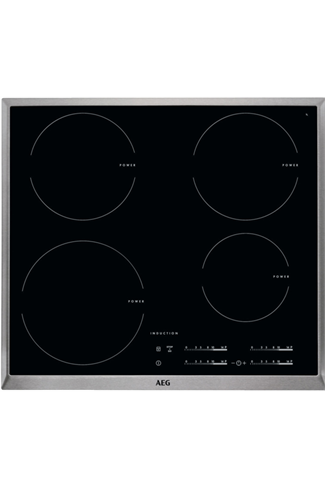 AEG HK654200XB Induction Hob
Available from Monday, 29/01/2018
Main Features
Dimensions
Height: 6cm; Width: 58cm; Depth: 52cm
The AEG HK654200XB is an induction cooktop for your kitchen that boasts several fantastic features that will help make cooking on your hob that little bit easier.
With a minimum power of 1.8kW and a maximum power of 2.5kW coming from the 4 heating zones, you have the perfect variety of cooking power at your disposal to be able to cook several things at once. On one zone you could have a delicious curry simmering away while the rice cooks on a separate zone at the same time. There are a staggering 14 power levels per heating zone and these can be easily changed using the touch controls. The LED display also clearly shows which power level you are currently using.
There is a child safety lock on this AEG induction hob to stop the heating zones being turned on accidentally and the power boost option allows you to have a rapid boost of heat to certain heating zones to help your cooking along.
Key Information
Dimensions
(H): 6cm; (W): 58cm; (D): 52cm
Guarantee & Warranty
Length of Warranty
2 years
Hob
More Information
Recommended / Related Products